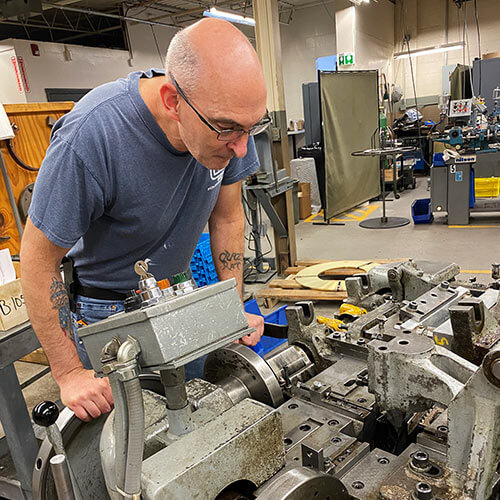 Mark Ratta, the Working Leader on our production floor, joined Fourslide nearly 30 years ago as a member of the Shipping and Receiving Department.
"I didn't even know what a fourslide machine looked like when I got here," offers Mark. Three decades later, he is a very accomplished set-up man and a highly effective Working Leader.
Born and raised in Bristol, Mark attended Bristol Eastern High School, after which he had a series of jobs – none of which he found to be terribly rewarding. Good fortune, both his and ours, brought him to Fourslide. After two years of displaying competence and a strong work ethic while packaging parts for shipment, he became the manager of the Shipping and Receiving Department.
Five years into his career here, Mark was offered the opportunity to move into the Production area. The move required Mark's return to school to study the basics of fourslide set-up at Bristol Tech. Upon completion of this training, he began work on the production floor.
"In those days, it was more or less sink or swim," says Mark. "The older guys were not all that willing to share their knowledge. It wasn't easy, but I was determined to make it."
He is happy to report that things have changed over his time at Fourslide. "Teaching and training are much improved – today you see more mentoring and more of a team approach."
Ratta assumed the role of Working Leader roughly two years ago and has performed admirably. "I was sure Mark would do a good job, but he has far surpassed my expectations," reports Fourslide President Bryan Funk. "His 'whatever it takes' attitude and attention to detail have made him an excellent team leader."
Mark's two sons are both serving our country: Nicholas as a mechanic in the Air Force, stationed in Albuquerque, NM, and his brother Anthony serving part-time with the National Guard while employed as a civilian welder with the U.S. Army.
When he's not setting up and running fourslides, Mark enjoys working a bit more, doing side jobs in construction and remodeling. With any spare time, he gets out for a little hunting and fishing.