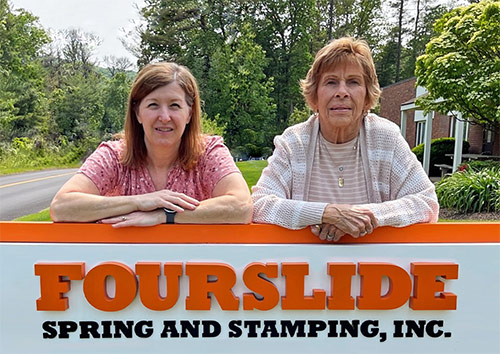 After 53 years with the company, Judy Schmidt has retired as Fourslide's CFO / Office Manager.
Judy started with us part-time in 1970 in a job-share arrangement with her mother doing accounts payable, accounts receivable, and general office work. No computers! All paper! When her daughter was born in 1972, Judy took five years off, though she continued to assist her mother at work. She returned under the same arrangement in 1978, leaving each day in time to greet her daughter as she got off the bus. Judy would eventually take over for her mother full-time, with her responsibilities growing to include Human Resources and Chief Financial Officer.
Judy grew up in Bristol and was part of Bristol Eastern High School's second graduating class before studying bookkeeping and accounting at Burdett Junior College in Boston. She lives in Plymouth, Connecticut, with her husband, John, and her two dogs. Judy plans to spend her retirement gardening, shopping, visiting her Rhode Island beach home, and spending time with her husband, daughter, and three grandchildren.
Judy is delighted to see a third generation of the Funk family working at Fourslide. She has long pledged not to retire until another family member was ready to take over for her, and she got her wish!
Laurie Funk – wife of Fourslide President Bryan Funk, and pictured above with Judy – is our new Office Manager. Laurie grew up in Bristol and attended Bristol Central High School and Providence College. She spent 30 years as a paralegal, also doing some bookkeeping work on the side. Laurie jokes that she "had to come to work at Fourslide to spend more time with her husband." She enjoys spending time mountain biking, running, and reading. She and Bryan have three children.
Please join us in wishing Judy a very happy retirement!