Custom Electrical Contacts & Clips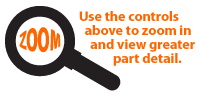 Fourslide Spring and Stamping specializes in manufacturing electrical contacts and clips of all shapes and sizes. Plug-ins, crimp-ons, fuse clips or ground clips – Fourslide can help.
Designing a new contact to fit into your printed circuit board / PCB layout? Contact us early and let us help you through the design phase. We're ready to help.
Request a Quote.
Let us help you get the best electrical contact, cost effectively. Call or email us with your requirements, or fill out our online RFQ form today.
We are also experts in manufacturing battery contacts.